A classic step in to the future Founded in 1878, Lozza is the oldest eyewear brand in Italy.
In 1878, a small group of men set up shop in the heart of Cadore, unaware that in decades to come, their eyewear would become a solid reference point. Giovanni Lozza, together with two associates – travelling eyewear salesmen – founded an eyewear factory.
Whilst also convincing friends and relatives to open eyewear shops in various locations of the Veneto region. Since then, Lozza has controlled the eyewear narrative throughout Italy and worldwide, by focusing primarily on its signature quality and creativity, in turn, producing collections filled with genuine handcrafted jewels.
Troubled times caused the company to close but Giovanni Lozza jumped straight into a courageous entrepreneurial adventure, bolstered by his strong will and unfaltering passion. He worked tirelessly to build eyewear machinery and sold his products through third parties, in turn, acquiring a solid fan base, thanks to the items' quality and beauty.
Despite the difficulties faced, his vision became bigger and bolder, until, in June 1912, the Lozza company was officially established as a small mechanical workshop. Between the two wars, the company expanded by opening a branch in Salò and two warehouses in Rome and Milan, respectively. The company's surprising success led to it receiving major international awards and honours of merit.
Zilo – a simple yet refined model that seamlessly combined plastic with metal – was first launched in the 1930s. However, these glasses only became a Lozza icon par excellence in 1946, once the Second World War had ended, thanks to their extraordinary beauty and innovation.
The Zilo model continued to grow in popularity, selling over a million pieces and firmly cementing itself as an eyewear great. Its unparalleled success – not seen at the time – resulted in the model receiving a prestigious Fashion Oscar in the 1960s, as testament to the Lozza brand's incredible talent and craftsmanship expertise. Even today, the Zilo model is a true style icon that continues to inspire and fascinate anyone who owns one of these pieces of history.
In the 1950s, a new "youth culture" was beginning to emerge with its own time-relevant behaviours, tastes, styles and languages. Elvis Presley and James Dean were the iconic role models for this emerging consumer category.
Thanks to the increasing use of plastic materials, eyewear assumed a certain charm and importance, becoming a true fashion accessory, and symbol of style and beauty. Lozza fully immersed itself in the trends of the time and began creating glasses in a variety of designs, alternating statement thicknesses with ultra-feminine elongated shapes, in which the distinctive rhinestone and mother-of-pearl inserts stole the show and made each frame truly unique.
In this era marked by great changes, eyewear becomes a symbol of freedom... an accessory that could free both the individual's imagination and personality. Originality reached Italy from overseas and helped breathe fresh air into the design. Lozza decided that the time was nigh to be daring and created the first frames with innovative shapes, geometric front pieces and slightly rounded trapezoid or rhombus-shaped edges.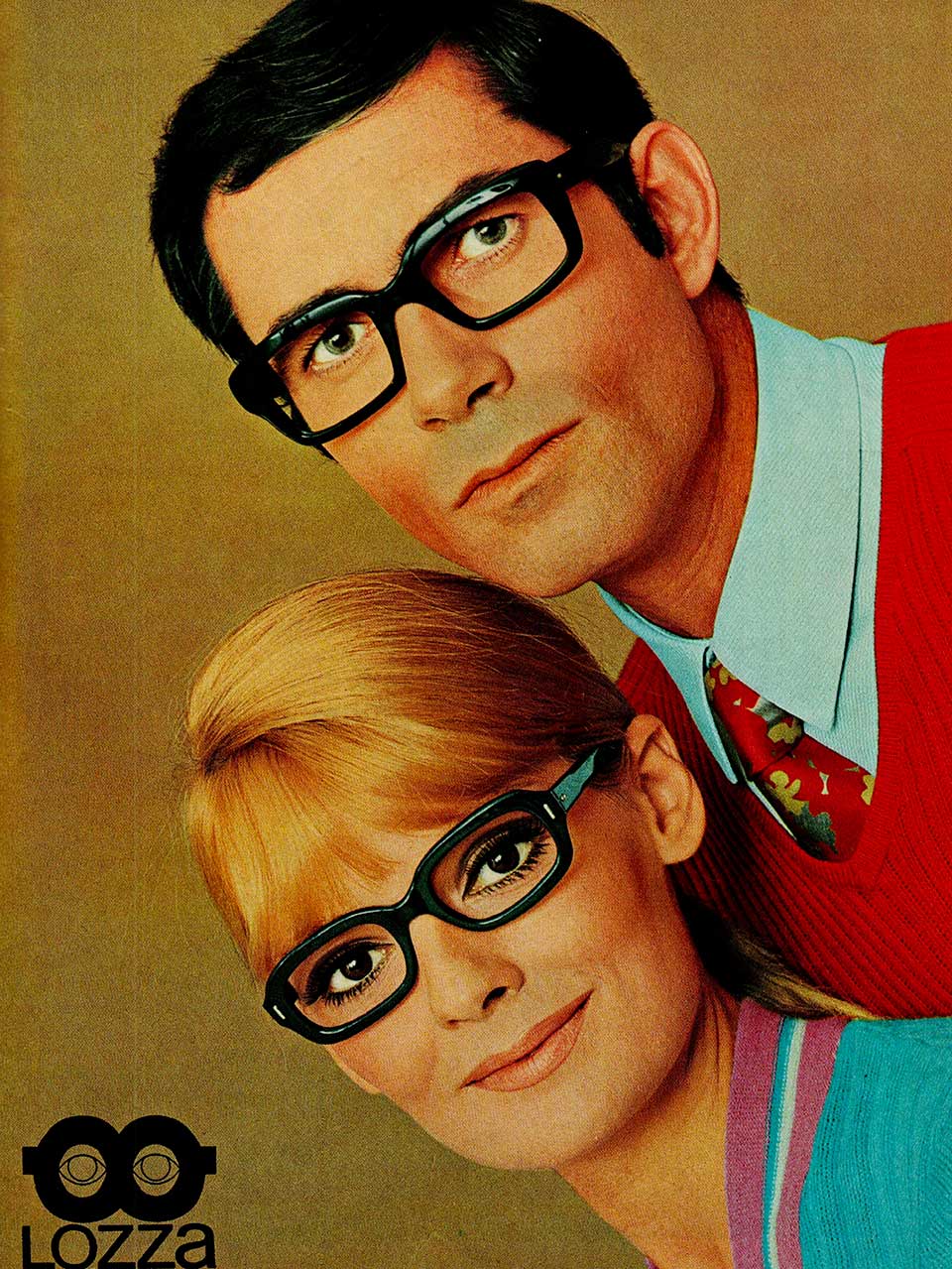 Aesthetics and functionality came together in perfect harmony, creating eyewear that became true works of art. As a result, Lozza eyewear became a symbol of originality and boundless creativity. A true excellence that reflects the spirit of the time yet still continues to enchant today with its timeless beauty.
It was during this time that Lozza became much more than an eyewear brand, thanks to its inimitable style, meticulous attention to detail and unfaltering commitment to technological research. Each and every pair of Lozza glasses skilfully combined craftsmanship and innovative materials, transforming the eyewear into a political and religious manifesto, that spoke volumes about the wearer's personality.
The Zilo phenomenon exploded during this decade: it became the brand's symbolic model by epitomising Lozza's innovation, passion and authenticity-filled soul.
In 1983, Lozza was acquired lock, stock and barrel – including all its technological expertise and collections – by the Longarone-based De Rigo Group, who were widely considered to be one of the main heirs of the Cadore eyewear tradition. The Lozza brand's professional and moral legacy was remarkably preserved by Ennio De Rigo and his company: in fact, the products' popularity and high quality standards were upheld so well that some of the leading names in ready-to-wear fashion turned to the Lozza brand for their collections.
Thanks to the passion and commitment that set the Lozza production apart, the company was able to successfully preserve the essence, history and value of the brand, by keeping alive a century-old tradition yet setting their sights on future generations.
As we entered the '90s, metal returned to the spotlight once more and pushed plastic to the side. The material was cherished for its light and robust properties, in addition to its ability to create slender, barely-there frames. As a result, Lozza immediately began producing a wide variety of minimalist, linear models, to satisfy all desires and tastes.
While this marked a turnaround in the brand's history, the high-quality workmanship, precision and attention to detail remained the same, testifying to the quality and charm that had always set the brand apart, whilst also conveying a sense of timeless elegance.
At the turn of the century, a newfound desire for security and a nostalgia for time-honoured craftsmanship, led to the classic and refined Lozza models being accentuated with a vintage style which evoked a deep sense of familiarity. This element, accompanied by painstaking attention to content and the needs of modern society, guided the Lozza model production and made them unique
Lozza glasses often became the eyewear of choice of showbiz celebrities, which helped spontaneously endorse the brand image, by embodying the beauty of a bygone era yet the eager fascination of the future.
During the first Noughties decade, the desire for originality and uniqueness increasingly emerged. To meet this growing demand, Lozza offers its customers the exclusive opportunity to customise their glasses, in terms of shape, size, material and colour, inspired precisely by their very own ideas and creativity.
By looking back through the Lozza historical archives, a recurrent and symbolic theme became apparent which helped made this staple Italian eyewear brand unique: five lines, one for each letter in the brand name. Lozza created a distinctive icon to unequivocally represent the brand: a patented frieze that finds pride of place on all the new collection models – from sunglasses to prescription frames – with the exception of the historic Cooper, Macho and Zilo models, whose historic logo is still being used.
The Lozza models thus preserve the essence of their origins, with a combination of refined and classic shapes that reaffirm the value and far-sightedness of a brand that has made the Belluno eyewear district great, and is still a reference point for Italian eyewear today.